Are you all decorated for Christmas? I know I am! I love this time of year and absolutely LOVE finding simple, inexpensive DIY ideas to decorate with. These Glitter Starbursts are so easy to make and will add a POP of SPARKLE to your Holiday Decor!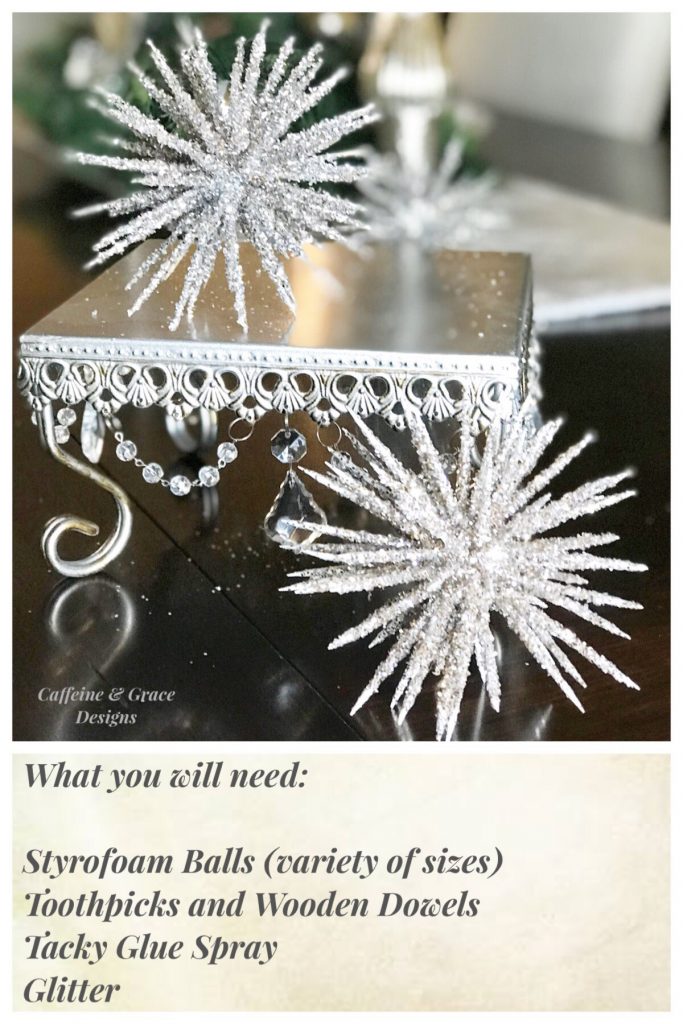 Getting Started
I always have glitter on hand because I think glitter makes almost anything come to life! I used rose gold and silver glitter for this project, but you may use any combination you would like that best fits your decor. Next, determine the size you would like your starbursts to be. You do not want your toothpicks or sticks to be out of proportion with your styrofoam balls. I used 1″ and 2″ balls for mine and felt toothpicks worked best in the 1″ and a variety looked best in the larger. If you choose a larger styrofoam, you may want to use small wooden round dowels and cut them to the right size. Finally, grab your tacky glue spray and you are ready to get crafting!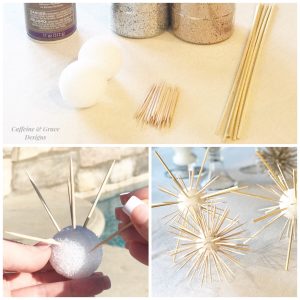 Step 1  –  Start Inserting Wooden Sticks/Toothpicks into Styrofoam Ball
You will want to start inserting the toothpicks/sticks in random order into the styrofoam balls. Do not push them all the through or you will not be able to insert them from the other side. You only want to insert them half way and take caution not to poke yourself! Once you have a nice full looking starburst, you are ready to move on to Step 2.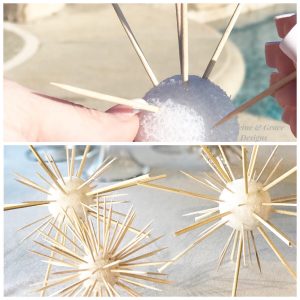 Step 2  –  Mix your Glitters
Unless you are just using one color of glitter, you will want to mix your glitters in a separate cup and have it ready. I prefer mixing them together prior to shaking the glitter on the starbursts so that the distribution will be more even.
Step 3  –  Spray the Stars with the Tacky Glue
It's best to be outside for this step, or in a well ventilated area. Spray your starbursts, one at a time, with the tacky spray. Once you have a good amount on them, you will want to proceed to step 4 before you spray your next starburst.
Step 4  –  Adding Glitter to Star
Once you have glue on the starburst, you will start adding the glitter. You may need to add a little more glue in areas that the glitter is not sticking to. Repeat steps 3 and 4 until the entire star is covered with glitter and you do not see any exposed wood or styrofoam.
Upon completion you should have beautiful, sparkly starbursts to add to your decor! I put them in bowls with ornaments, on my mantel, in vases, and anywhere that I need to add a little sparkle! Happy decorating!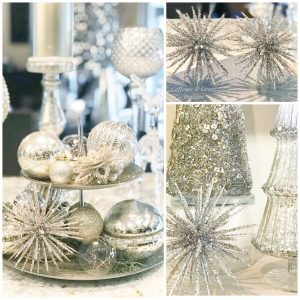 If you like it, share it!